The Simple Polishing System
Choose the 1- or 2-Step Composite Polishing System
Direct composite resins are usually the most common procedure in an average restorative practice. In a busy practice, it's important to streamline your procedures to make them efficient and predictable. Having a systematic approach with complementary materials is a great way to accomplish consistent results. Many clinicians are focused only on the composite and matrix system and take for granted the importance of having a nicely polished restoration that will be less plaque retentive and last longer.
Simplicity is very important and having a polishing system you can depend on with as few steps as possible is quite desirable. Fortunately, Microcopy, a Georgia based company near Atlanta, has a track record of creating high-quality burs and polishers for all your restorative needs. Their Gazelle nanocomposite polishing system is unique in that it offers clinicians the option of a 1- or 2-step system depending on your preferences. They are also available in 3 convenient shapes – points, cups and discs – to polish whatever anatomy is treated.
There are many composite polishers on the market with varying properties and steps. The Gazelle polishers are specially formulated for nanocomposites using a patented SiltecTM process during development which infuses the polisher with strength to retain its shape and not crumble. This is a common problem with some of the other competitive systems. This durability also allows the polishers to stand up to multiple restorations during the same procedure, making it more convenient and cost effective. The fact that they are sterile wrapped in single-use packages allows clinicians to use and simply toss them out after all procedures are completed.
Gazelle polishers come in two forms. For those that prefer a 1-step procedure, the Satin polisher is designed for removing stains and surface striations while achieving a result that is usually enough to match adjacent teeth in the posterior. For those that chose to use a 2-step procedure, the Hi-Gloss polisher leads to a super-high shine due to embedded diamond particles for those restorations that demand this level of polish. For anterior restorations, the Hi-Gloss step is a great way to provide a high luster finish.
I know in our practice it's all about being simple, convenient and predictable. My assistants don't like to have too many products to organize and sterilize. I, however, want as few steps as possible and use a product I can rely on for results. We place both the Satin and Hi-Gloss packets on the tray and open which ever ones I require for the procedure at hand. I can usually get 2-3 restorations completed with one Gazelle and not have to worry about polisher crumbling or head breaking off in the shank like other polishers on the market. Depending on the location of the restoration and surfaces treated, I have the convenience to choose whether I wish to keep things simple with a 1- or 2-step system. It's nice to have that flexibility.
For more information please go to: gazellepolishers.com.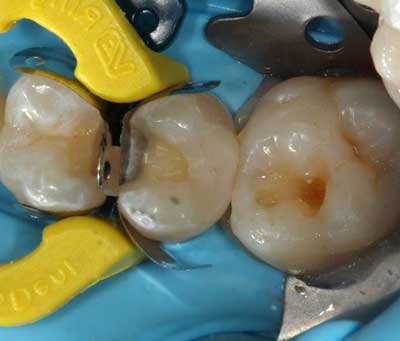 Figure 1. Preparations of teeth #12, 13 & 14 after caries removal and matrix placed.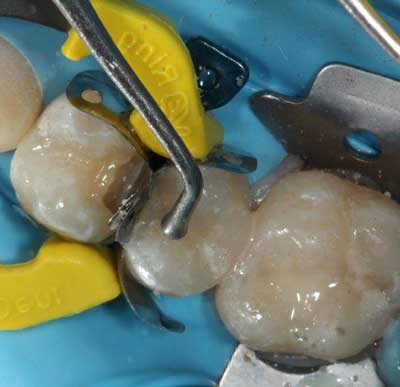 Figure 32. Placement of composites to restore teeth #12, 13 & 14.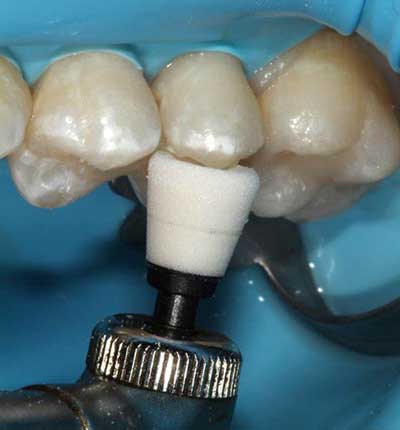 Figure 3. Initial polishing of composites with Gazelle Satin polisher.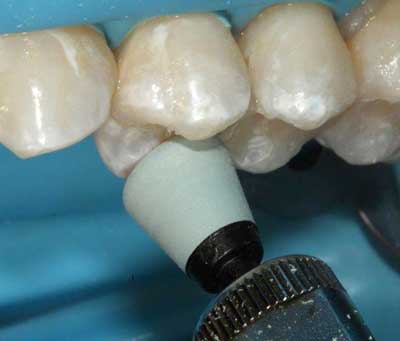 Figure 4. Final polishing step with Gazelle Hi-Gloss polisher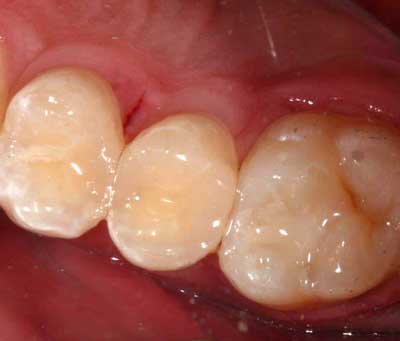 Figure 5. Final restorations after polishing with Gazelle polishing system.
Dr. Paresh Shah maintains a private practice in Winnipeg, Canada with a focus on implant, cosmetic and interdisciplinary complex restorative care. He has a proficiency certificate in Esthetic Dentistry from the University of Buffalo (SUNY) in 2007. He is also a graduate of the Misch Implant Institute Prosthetic Program and the Kois Center in Seattle. He has given over 125 lectures on all aspects of restorative dentistry and interdisciplinary care. Dr. Shah is an Adjunct Associate Professor at the UOP Dental School in San Francisco. He is a member of Catapult Elite speakers bureau and is also a founder and co-director of a Seattle Study Club in Winnipeg. (drpareshshah.com)