The New Definition of Strength
Microcopy's new 5572 carbide—reinforced for strength with a new blended neck design— a workhorse with durability that dwarfs the competition. Precision engineering ensures optimum quality and performance for even the most demanding cases. If you're frustrated with burs that break and interrupt your procedures, upgrade to the 5572 today and make bur breakage a thing of the past.
Blended neck construction makes for a break-resistant carbide.
Up to 70% stronger than competitive brands.*
6-blade square cross cut design provides smoother, faster cutting with minimal surface damage.
Single piece construction makes it concentric, minimizing vibration and reducing chatter.
*Validated by a third-party study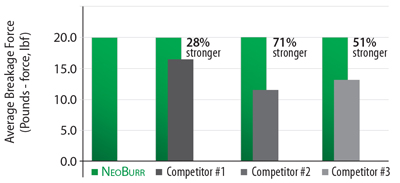 A third-party blind comparative study of this new 5572 bur against three of the top competitive burs showed the performance of the Blended NeckTM bur to be far superior. As the chart illustrates, the NeoBurr Blended Neck 5572 is up to 71% stronger.
NeoBurr recieved the
Best Product award in 2016
— by Dental Product Shopper