Sometimes the "Old-Ways" are the Best Ways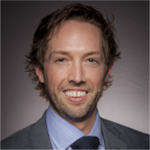 Dental Product Shopper Case Study -August 2018
I love Amazon. It has been the answer to my aversion and distaste for the shopping scene. Yet, there are still times where online shopping shows limitations. For instance, it is hard to judge the comfort and feel of a mattress without a visit to an old-school brick and mortar establishment. So, despite the convenience of one-click purchasing, sometimes the old ways really are the best ways.

It is no different in dentistry. With the incredible pace at which technologies and materials continue to develop, I feel it has become common place to abandon tried-and-true methods that still can get the job done. It is my belief that, at times, we overcomplicate treatment and anguish over which plan is best. We need keep in mind that no matter the challenge, one cannot replace "old school" fundamentals: a good prep paired with a plan that is uniquely designed and executed for that patient equals a good chance for long-term success.
This is one such example. A patient presented with a failing endodontically treated tooth No. 9. The existing post/core and crown had fallen out and the patient wished to have it replaced. After thorough discussion, it was noted that Nos. 8 and 10 also required additional work and new crowns. It was agreed upon that a classic 3-unit PFM bridge would be the best approach.

Work began by re-treating abutment teeth Nos. 8 and 10 to ensure the prescribed bridge was constructed on a solid foundation. Once endo-resto was completed, the abutment teeth were prepped using a single-use, medium grit diamond. Tooth No. 9 was also extracted during the same visit. The patient was then fitted for a custom temporary to develop an ovate-pontic receptor site for No. 9.
My preferred prep-design for fixed crown and bridge are modified-shoulders. In my opinion, the ideal bur to create a shoulder look—but also with a rounded internal line angle design—are KR modified flat-end taper burs. My preferred choice is 0816.8M (medium) from Microcopy. My background as a dental lab technician has taught me over the years that if I can provide the lab with a circumferential, 360° 0.8 mm shoulder/ chamfer, they can provide me with any material choice and design feature required for case completion.

Prep design and planning are essential to long-term fixed prosthetic success. For this reason, I have become particularly interested in single-use burs in recent years. There are many to choose from, but I most frequently prep with those made by Microcopy. Single-use burs from Microcopy cut aggressively and are extremely efficient, not to mention each bur comes presterilized. Advantages of single-use include: no chance of cross-contamination, reduced overhead, and a fresh cut every time you open the package.

Final impressions were captured after 6 weeks of healing to allow for soft-tissue development and maturation. The prescribed lab work was ordered and completed by Maverick Dental Laboratories. The case was seated using Ceramir cement (Doxa Dental).

For me, the decades-long track record of fixed partial dentures keeps them a viable option even in the modern dental practice. Therefore, do not so easily abandon the well-worn road. Be mindful of good techniques firmly planted in tried-and-true methods the next time a case like this graces your chair. Call me sentimental, but sometimes the old ways are still the best ways.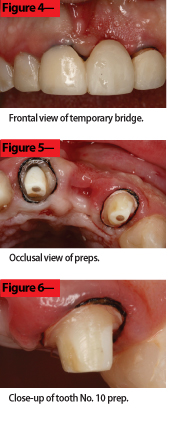 ---
GO-TO PRODUCTS USED IN THIS CASE
NEODIAMOND
As a single-patient-use diamond, NeoDiamond provides a fresh, fast-cutting bur every time while enhancing infection control, expediting procedures, reducing patient trauma, and decreasing handpiece wear and tear, according to Microcopy. Each diamond is gamma-sterilized and individually wrapped in a packet that identifies the bur by diamond number, shape description, and grit size. Designed with advanced Triton bonding technology that fastens diamonds to the shank with superior hardness and maximum longevity, each NeoDiamond exposes 20% more diamond cutting surface, according to Microcopy. They will cut through zirconia, lithium disilicate, and gold crowns with ease and precision. NeoDiamond instruments are offered in hundreds of configurations for any operative application, from crown and bridge to endo. Very Fine grit finishing diamonds are also available to finish off restorations.